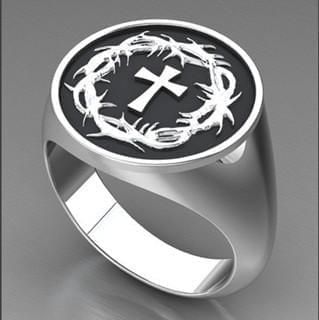 Crown of Thorns & Cross Ring (Sterling Silver)
View the Ring Size Guide We are proud to offer this ring as a beautiful reminder of the Passion and the Promise of Christ. First, this ring represents the Passion of Christ with the crown...
We are proud to offer this ring as a beautiful reminder of the Passion and the Promise of Christ.
First, this ring represents the Passion of Christ with the crown of thorns and cross. They remind us that Christ suffered, died, and was buried. He endured the mockery of Pilate's soldiers, as they twisted together a crown of thorns, put it on his head, and clothed him a purple robe saying, "Hail, king of the Jews!" And when Pilate brought him out, the Jews saw him in the crown of thorns and purple robe, they shouted, "CRUCIFY! CRUCIFY!" That is when the Gospel introduces us to the cross. He died the death of a common criminal at the hands of Adam's race. He was taken to the Hill of the Skull, nailed to the cross, and breathed his last…."It is finished".

That leads us to the amazing Promise that is symbolized by what the material this ring is made from, and the hope that promise represents. The Gold and Silver are a daily reminder that Christ is King of Kings, and that He is worthy to receive glory and honor and power! The Gold and Silver represent the empty tomb, the Promise of Hope, and the refining process of serving Christ as our Savior and King. He is risen! And He is seated at the right hand of God the Father!

We hope this ring will encourage you by reminding you that you were bought at a high price and that Christ overcame the grave, putting death to death, and breathing life back into Adam's helpless race. This ring is a great gift for any Christian man, and with silver and gold options, is affordable for every man!
Made in Turkey
Size 8

SKU: cc-ring-8s
UPC: 647923499872

Size 8.5
SKU: cc-ring-8.5s
UPC: 647923499889

Size 9
SKU: cc-ring-9s
UPC: 647923499896

Size 9.5
SKU: cc-ring-9.5s
UPC: 647923499902

Size 10
SKU: cc-ring-10s
UPC: 647923499919

Size 10.5
SKU: cc-ring-10.5s
UPC: 647923499926

Size 11
SKU: cc-ring-11s
UPC: 647923499933

Size 11.5
SKU: cc-ring-11.5s
UPC: 647923499940

Size 12
SKU: cc-ring-12s
UPC: 647923499957

Size 12.5
SKU: cc-ring-12.5s
UPC: 647923499964

Size 13
SKU: cc-ring-13s
UPC: 647923499971
Do you know your ring size? Use the Ring Size Guide below to determine your exact ring size. First, download the Ring Size Guide, then print it. The Ring Size Guide provides two different ways to measure your ring size.
BREATHTAKING DESIGN
I am in awe of the details captured in the design of this keepsake reminding me of our Savior's sacrifice at Calvary! Thank you!!!!
Crown of Thorns Ring
Beautiful sterling silver ring! Just the right size, not too ostentatious but definitely noticeable and a fantastic identifier of a follower of the Lord Jesus Christ. Very detailed cross and crown of Thorns. It looks like silver on black in the picture, but mine came with a dark almost crimson background which makes it even more unique! The sellers are devout Christians and went out of their way in providing exceptional customer service. I would highly recommend this ring as well as their other inspirational merchandise to fellow believers. May the Lord bless their ministry through their business, and bless them as well, personally, and with His provision.
In Christ,
Don P.