Date:

Oct 23, 2020
Commet(s):
0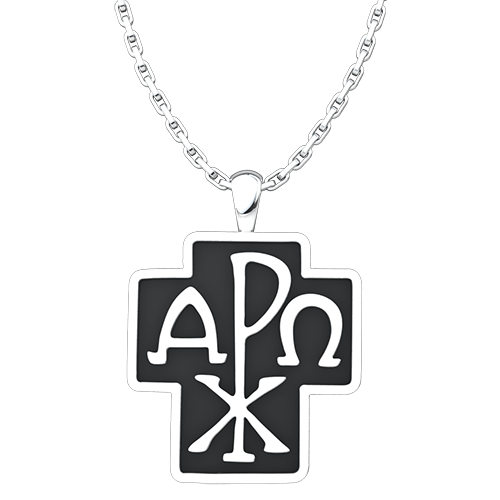 What is the product?
This is our Alpha and Omega sterling silver pendant. Packaged in a luxurious plush velvet gift box, this pendant comes on an 18" sterling silver chain. Initially created for our traditional Christian arts collection, artisans in the biblical Asia Minor and Turkey crafted the alpha and omega pendant. You can wear these shining symbols of faith for any occasion.
Product significance
The Greek Alpha Omega symbol signifies the omnipotence of God. He was at the beginning of all, and he will be there at the end. Therefore, God is, was, and always will be eternal. The message of this pendant is based on the scripture, Revelations 21:6-7," 'He said to me: "It is done. I am the Alpha and the Omega, the Beginning and the End. To the thirsty I will give water without cost from the spring of the water of life. Those who are victorious will inherit all this, and I will be their God and they will be my children.'"
According to Britannica, Alpha and omega are the first and last letters of the Greek alphabet.  In the Christian faith, we use it to depict God's extent, implying that God includes all that can be. The use of the Greek alphabet is due to the new testament being written in Greek.
Why should you own this product?
God knows what is going to happen before it happens. He knows every trial and tribulation we'll go through. He knows the trouble that would occur on earth even before we were born. This isn't something that we always remember. It is easy to forget when we are in trial and tribulation. Wouldn't it be great to have a reminder of that every day? The Alpha and Omega pendant is an excellent reminder that you can carry with you to remind you of who God is and how he works in your life. For most people, Jewelry is a staple piece that you wear every day. When you look in the mirror, it is always there. What a fantastic way to remember that God knows what is at the beginning and the end of it no matter what it is.
This pendant cannot only help you remember who God is, but it can be a great way to display your faith and to spread the gospel to others around you. The uniqueness of this pendant is something that is sure to spark conversation and who God is.
This is also a great gift that you can give to your friends and family.
Do you want to save money on this fantastic pendant for you or someone you love? Use code "alphaomega10" for 10% off your next purchase!
Make sure to share your purchase with us on our social media channels and google reviews!