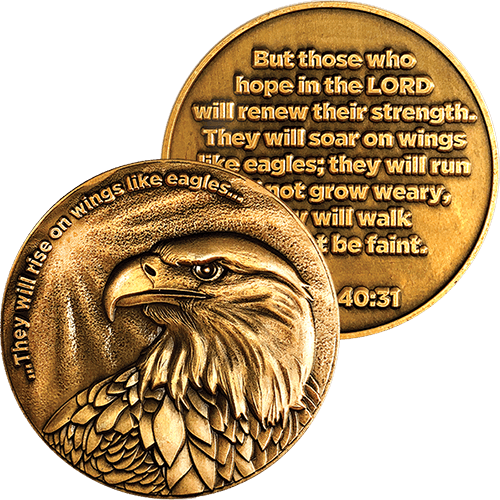 American Bald Eagle Challenge Coin If you're looking for more patriotic challenge coins like this one, be sure to check out our Wings as Eagles Coin, Thank You for Your Service Coin, God Bless America Coin,...
American Bald Eagle Challenge Coin
This high quality, antique gold-plated challenge coin is an excellent token of faith to carry with you, or to pass along to those in need of encouragement.
This coin is meant to serve as an encouragement and a reminder of the Lord's promise to us. He has already given us the strength and endurance to run the race set before us! Makes a great gift for eagle scouts, cub scouts, and boy scouts!
This Eagle challenge coin is a perfect tool to serve as a subtle reminder of faith. Great to keep in a pocket, purse, or backpack to carry the Joy of the Lord with you wherever you go, or put it on display on any table or desktop.
Carefully and exquisitely designed, this Bible verse challenge coin makes the perfect gift or token of encouragement to pass out to friends or family. Make someone's day with a simple, kind gesture and a small gift. Also a great tool for bulk teaching aids and object lessons at church, school, small groups, youth groups, and Bible studies.
This American Eagle coin comes in gift-ready packaging. Makes for the perfect present as a token of gratitude, appreciation, or encouragement. Remind someone that they are not alone, and that there is a God who loves them.
Details
Front: American Bald Eagle, with text "...They will rise on wings like eagles..."
Back: Text "But those who hope in the Lord will renew their strength. They will soar on wings like eagles; they will run and not grow weary, they will walk and not be faint. Isaiah 40:31"
Size: 1.75"
I was really pleased with my purchase..
Christian Eagle Antique Gold Plated Challenge Coin - Isaiah 40:31
Great Challenge Coins for Our Grandkids
Coins were great! I gave three to each of our grandkids.
Great quality coins
They have the best price I could find and the coins are great quality. Perfect for our men's retreat.
Christian Eagle Antique Gold Plated Challenge Coin - Isaiah 40:31